We're hiring! View open positions
Incorporated in 1978, the East Texas Crisis Center has become a safe haven for those impacted by family violence, dating violence, sexual assault and violent crime.
To provide safety, shelter and education to victims of family violence, sexual assault, dating violence and other violent crime and to restore dignity and purpose in their lives while promoting public compassion and awareness to reduce violence in the community.
Safely Leave
You can quickly leave this website by clicking the "Escape Site" button above. To browse this site safely, be sure to regularly clear your browser history.
Learn more about internet safety
Need Help Now?
We're here for you.
If you are in danger, please call 911.
If you are not in immediate danger, and need help or advice, call our local 24/7 hot line at 800-333-0358.
You may also reach our daytime office phone at 903-509-2526
National Domestic Violence Hotline: 800-799-SAFE
Deaf: 800-787-3224
*Live support agents available Mon-Fri 8:30am - 5:30pm
24-Hour Crisis Hotline
800-333-0358
ETCC Office (M-F 8:30am - 5:30pm)
903-509-2526
B.I.P.P (Batterer Intervention & Prevention Program)
903-579–2500
Make a difference today.
Want to know how you can help?
Food donations and other items are needed for our shelter. Please see our
Wish List
for current items needed.
East Texas Auto & Cycle Show
The East Texas Auto & Cycle Show revs up support for the East Texas Crisis Center, bringing together an impressive collection of classic, special interest, and modern vehicles to drive fundraising efforts forward!
Upcoming Events
See what's coming up!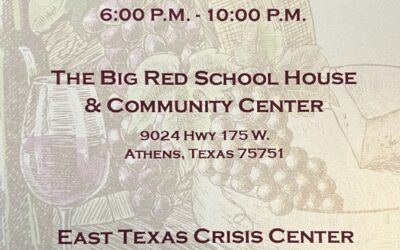 Saturday, November 4th East Texas Crisis Center - Henderson County is hosting their 22nd Annual Wine & Cheese Gala from 6:00 p.m. - 10:00 p.m. at The Big Red School House & Community Center in Athens. This is the outreach offices largest fundraising event of...
read more
View all Community Support/News
You're not alone.
We're here to help when you're ready.
24-Hour Crisis Hotline
800-333-0358