On Friday, July 7th Dutch Bros held a giveback event at all three Tyler locations to support survivors of domestic violence and sexual assault in East Texas. $1 from every drink sold was donated back to the East Texas Crisis Center.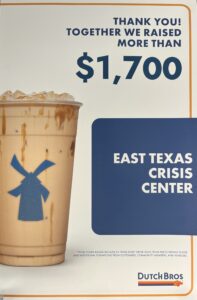 Before the giveback event, Dutch Bros management team came to tour the facility and learn more about what services East Texas Crisis Center provides.
On the day of the event, the management team of Dutch Bros went above & beyond to ensure that every customer was aware they were supporting East Texas Crisis Center, and even asking for consideration of making a donation. The Dutch Bros team even decorated each of their locations with purple and teal balloons, table cloths, and encouraged their staff to wear purple and teal clothing in support of Domestic Violence and Sexual Assault Awareness Months.
We are overwhelmed with gratitude for their genuine care and support of our mission to serve survivors in East Texas!
Thank you to Dutch Bros and the East Texas community for the generosity and making this giveback event a success!